Part-Time and Relief Equipment Operator Needed
Erin McGrath - March 7th, 2016
CFCF Inc. is looking for a part-time operator and relief equipment operator. If you or somone you know fits the description in the ad below, please fax your resume to 519-233-3199 or email it to claussen@tcc.on.ca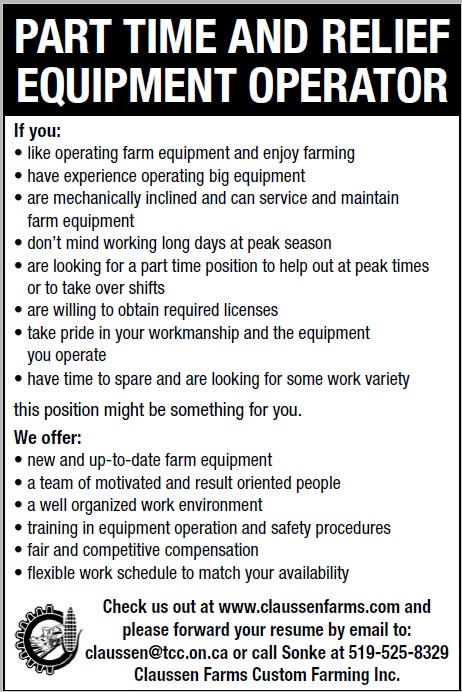 ---
3 Pillars of Silage Production
Erin McGrath - February 5th, 2016
Check out Sonke's presentation about the 3 pillars of Silage Production. Sonke was a presenter at this year's Dairy Congress in London, which has had a focus on dairy education, the latest trends and newest technology.
The presenation can be found here.
---
UAV (Drone) Update
Erin McGrath - December 3rd, 2015
We have done a lot of research on UAVs this year, unmanned aerial vehicle, also known as a drone to see the capabilities and uses of all different makes and models. It is no different than doing research on buying a new tractor, you have to make sure its features will fit with what we want it to do. This past spring, we purchased a DJI Phantom 2 Vision Plus drone. It is a quadcopter that takes aerial images and videos.
From this, we have learned so much about different farms, fields, crops and even equipment problems. In the early spring, we flew over some fields to see drainage problems and where we need to fix/add tile. We could see the planter misses and narrowed it down to individual row units that we need to fix over the winter. In the growing season, we could see fertiliy problems, variety splits, and fungicide trials. We used it as a tool to determine if we need to do a second application of nitrogen with the GreenSeeker. We also used it as a tool to help us plan the timing of corn silage. From the front of the field the corn looked ready to go, but using the drone we found that the back of the field was still too wet for corn silage. The 10 minutes it took to fly the field, saved us of the potential problems we could have had in the bunk if the crop went in too wet. We also used it to see manure spreader patterns. From the ground it was difficult to see what had happened to the crop, but from the air we saw that it was the manure spreader that had damaged the alfalfa.
We have learned so much in one growing season with the drone. It has helped us make better and more informed cropping decisions this year, and to help plan for next year. We have also made some great videos with it this year too. If you haven't already, check out the video on the home screen.
We hope everyone has had a safe harvest and that things are starting to wind down for you. We finished combining in great time this year, and most of the equipment is washed and getting ready for next year!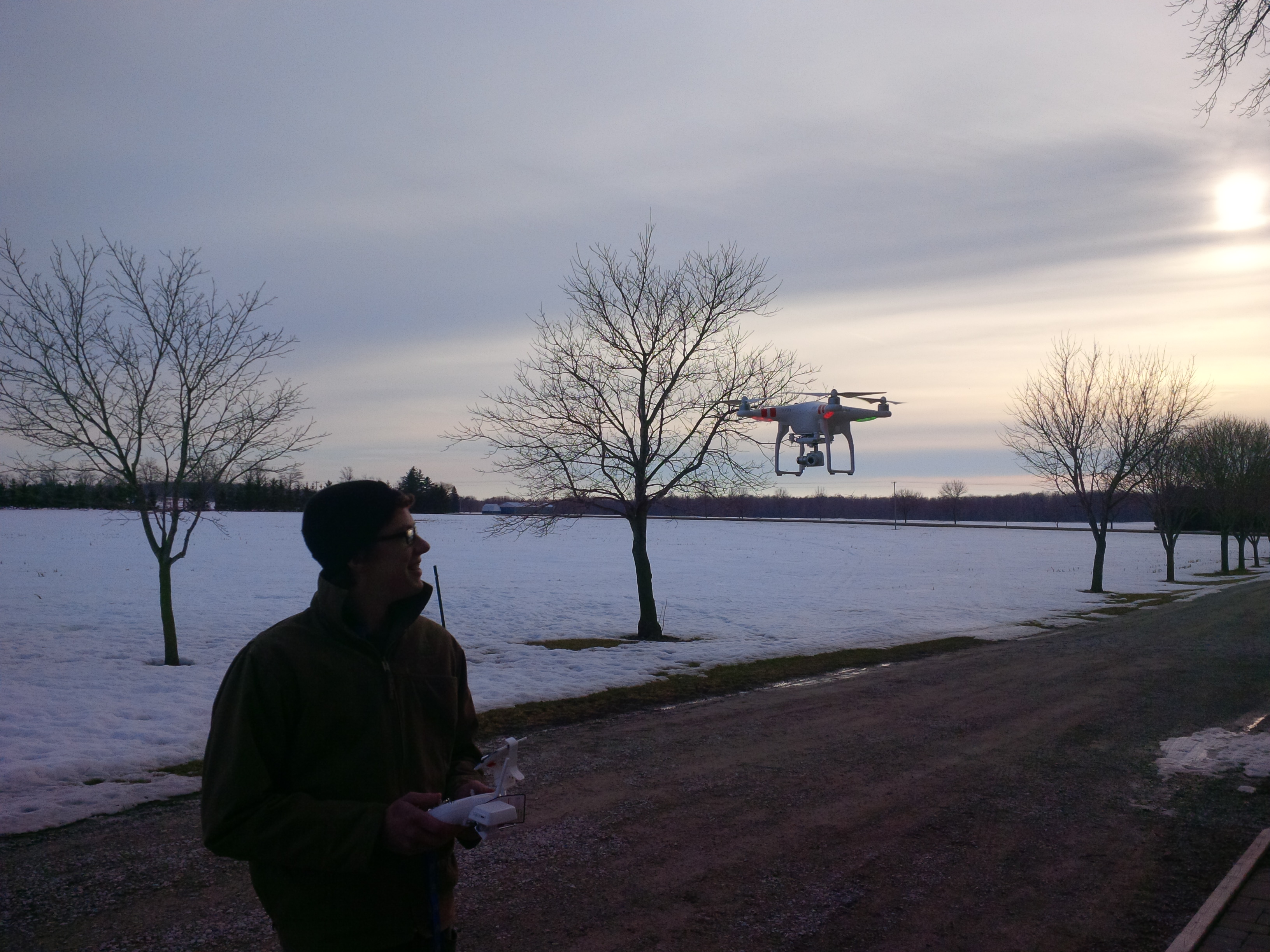 ---
Fall 2015 Update
Erin McGrath - October 9th, 2015
So far this fall has ran fairly smooth. We had a couple of weeks with long days but we were able to get the corn silage off without too many major problems or breakdowns. With the nice stretch of warm weather we had during corn silage, the corn really dried down fast, making it a challenge to stay ahead and get the timing right into the bunk. In the end, the quality was good and everyone was happy with the harvest. With everyone's cooperation, it all came off successfully!
Beans had been coming off steady for a week, but now the weather has been holding us up. Yields have been decent depending on location. After talking with a few people, the general consensus seems to be that the timing of rain played a big factor in yields. This week does not look like a combining beans week. However, we are looking to start into some corn for high moisture corn shortly.
It won't be long now until we are done!
Wishing everyone a Happy Thanksgiving, even if you are harvesting!
---
Spring/Summer 2015 Update
Erin McGrath - August 27th, 2015
In a world full of technology, you would think that updating a website would be quick and easy – which it is. However, you can't simply do it with a swipe of a finger or a tap of a button on your phone, like Facebook and Twitter. You don't have constant updates dinging at you telling you to check the website or someone liked a picture. You actually have to make the time to sit at your computer and do the update, which is exactly what I am doing today.
I apologize that we have not done an update on the website in so long. But here it is:
I'm going to work backwards through the year. Most of you likely want to know about what is going on now, not 4 months ago.
Wheat harvest surprised us all! Yield was excellent and quality was great! The rain held off for us, so we were able to get a good majority of the wheat off before the first rainfall. What did we learn from wheat harvest? We did a few trials in our own fields, and one thing we are walking away with is the timing and amount of nitrogen. In order to use our GreenSeeker we need to do what we call a NRS – Nitrogen Rich Strip. This is the strip that has all the N upfront that we want to put on the field, which the GreenSeeker gets its numbers from and bases the later application amount on. We ourselves do 2 applications of N, one early and one 2 weeks later, but the NRS goes on in the first application when the wheat was just starting to green-up. This strip out yielded all the side-by-side trials in all of our fields. Thus showing us that we need to put more N on up front when the wheat is just starting to come out of winter. We will do more trials next year on this theory!
Moving on to haylage… first and second cut are done and in the bunks. Lots of alfalfa and grass going into bunks and making dry hay. We are near the tail end of third cut and probably starting fourth cut soon. With this fall-like weather this week, it has slowed us down a little. But we will are revving up for the weekend to get a few farmers done! We have one harvester sitting, ready for corn silage to start, which isn't too far away now. We will likely finish haylage around the same time we start up for silage!
The late applications of nitrogen on the corn was a busy time. We can't push the acres through the sprayer like we can when the corn is small, so this was a longer than usual process, especially when people started realizing their corn was running out of N. After 2014 applications and harvest, we learned that we needed to let the GreenSeeker do what it wanted to and not limit the N. This caused us to put more N on than anticipated, and I guess harvest will tell if this was the right thing to do. Driving around the country side, I think we made the right choice!
Spraying crops this year went smoothly as well. I guess when you have around 33,000 ac on the sprayer for this year, you would hope it went smoothly! Besides the regular post application for weeds, we had lots of calls for fungicide applications on soybeans and corn, along with late nitrogen applications on corn. I am not sure if our timing was exact or if the weather cooperated with us, but we have seen limited white mould outbreaks in the soys this year. After such a wet spring, we weren't sure how this was going to turn out. I have seen some white mould in the fields that were sprayed, but not nearly as much as what it could have been. But like I said, maybe the weather helped us out by warming up and stopping the growth of the mould.
Planting crops this spring went well. We had almost all the corn in the ground in 2 weeks and the beans were not far behind. We had decent weather after, and the crops came up fairly even. Then we got frost in June. Thankfully we only replanted 50 ac of soybeans and the corn fields bounced right back. Then we got some rain, and lots of rain! Which for most crops wasn't too bad. However, if the soybeans were planted on the deeper side, we saw some emergence issues. Those that were lucky enough to emerge, then got hit by phytophthora root rot. With higher seeding rates, yield shouldn't be affected too much. Once mid-July hit, we finally got summer weather - which brought on aphids and spider mites in the soys.
There, I tried to keep it short! But when you haven't done an update in a few months, then it may be longer than usual. I hope the next one isn't nearly as long – in length and time in between updates! If you haven't checked out the wheat harvest video yet, please do! It's a good one!