Ag Services
At Claussen Farms Custom Farming Inc. we offer a full line of farm services. Please scroll down or select one of the Services from the list below to learn more about the Services that interest you and how we can help your farming operation.
---
Combining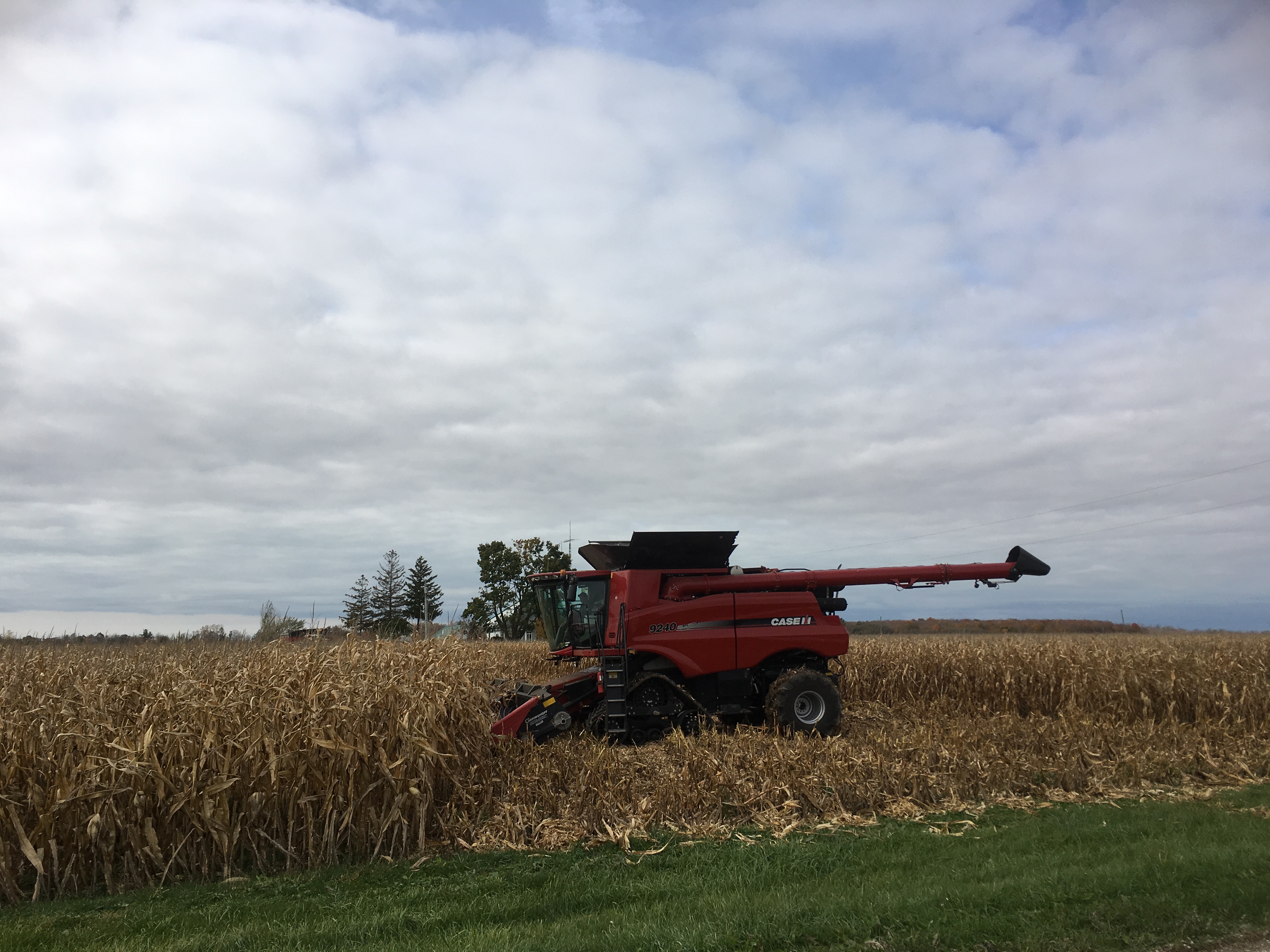 In late fall 2016, we traded the Case 8230 in for a Case 9240 on tracks. The tracks will help reduce compaction in the fields, and with the bigger engine we shouldn't run out of horsepower! This combine will still operate the 40 foot Draper flex head and a 12 row Geringhoff RotaDisc corn head. Overall, we were impressed with the machine's performance. This machine has the following features:
AFS Pro 700 Integrated Display - including yield mapping
Large grain tank - less unloading time!
Dual floatation tires
Gerringhoff RotaDisc 12 row corn head - integrated stalk chopping with harvesting process
AWS air reel wind systems in all bean crops
Specialized fine cut straw choppers with guaranteed even spread pattern over the entire cutting width of the headers
Automatic header height control in all crops
Using crop lifters in all cereal crops
Gentle crop handling by using round bar concaves in corn, beans, and wire concaves for wheat and canola
Buggy service with this combine
We can do the grain hauling
The combine is set up and equipped for gentle crop handling, precise and accurate residue handling because it is our belief that the success of the following crop starts with the combining job of the previous crop!
---
Crop Managament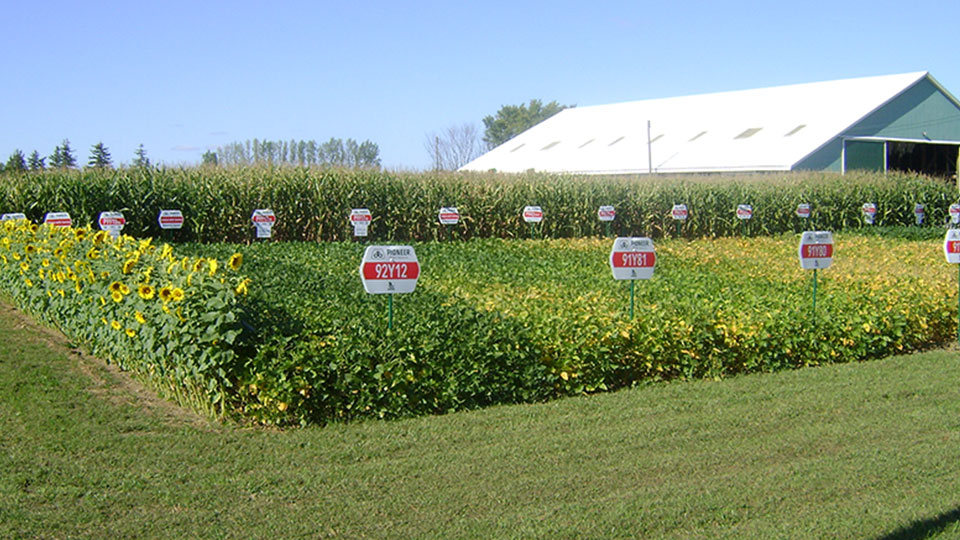 Our Crop Management Services are divided into 3 categories:
Individual Services
Crop Monitoring
Contract Farming
Individual Services
These services are offered on an on-call basis as needed and are charged individually. Once you call in we can provide the following services to you:
Crop Input Purchasing: We offer the option to be part of the input pooling group for buying fertilizer and chemicals, generate volume discounts, work with reliable independent input suppliers.
GPS & Precision Farming Services: GPS boundary mapping, GPS field entrance coordinates and topography mapping, autosteer, swath control, hand-held GreenSeeker NIR technology - used to assess health and vigor of the crop and calculates a fertilizer application.
Aerial Imagery:We are equipped with a Phantom 2 Vision + UAV to take aerial images of your farm and crops. This has proved to be a valuable asset in making farming decisions.
Mapping Services: GPS yield mapping of grain and forage crops, As-applied mapping for fertilizer and chemicals, including map layering.
Soil Sampling Services: Grid or random sampling with GPS coordinate, provide sampling map for customer, Sending samples for lab analysis and fertilizer recommendations.
Tissue Sampling: Can mark with GPS coordinates, take sample and have them analyzed to detect nutrition problems, only done if necessary or as discussed with customer.
Pre-Sidedress N Sampling: Take soil samples as discussed and deemed necessary to determine available Nitrogen from manure and other sources in early summer, samples are taken to a lab for analysis and fertilizer recommendations.
Field Scouting: Walking fields for regular scouting or problem solving, comes with a written report and recommendation.
Cropping Plans: Setting up and developing a cropping plan for the up coming season, outlining seed, fertilizer, chemical and tillage requirements and get it printed on a single work document, comes with no charge for spraying and planting customers.
One-on-One: Discussion and exchange about cropping issues, can be on a regular basis or as necessary throughout the season.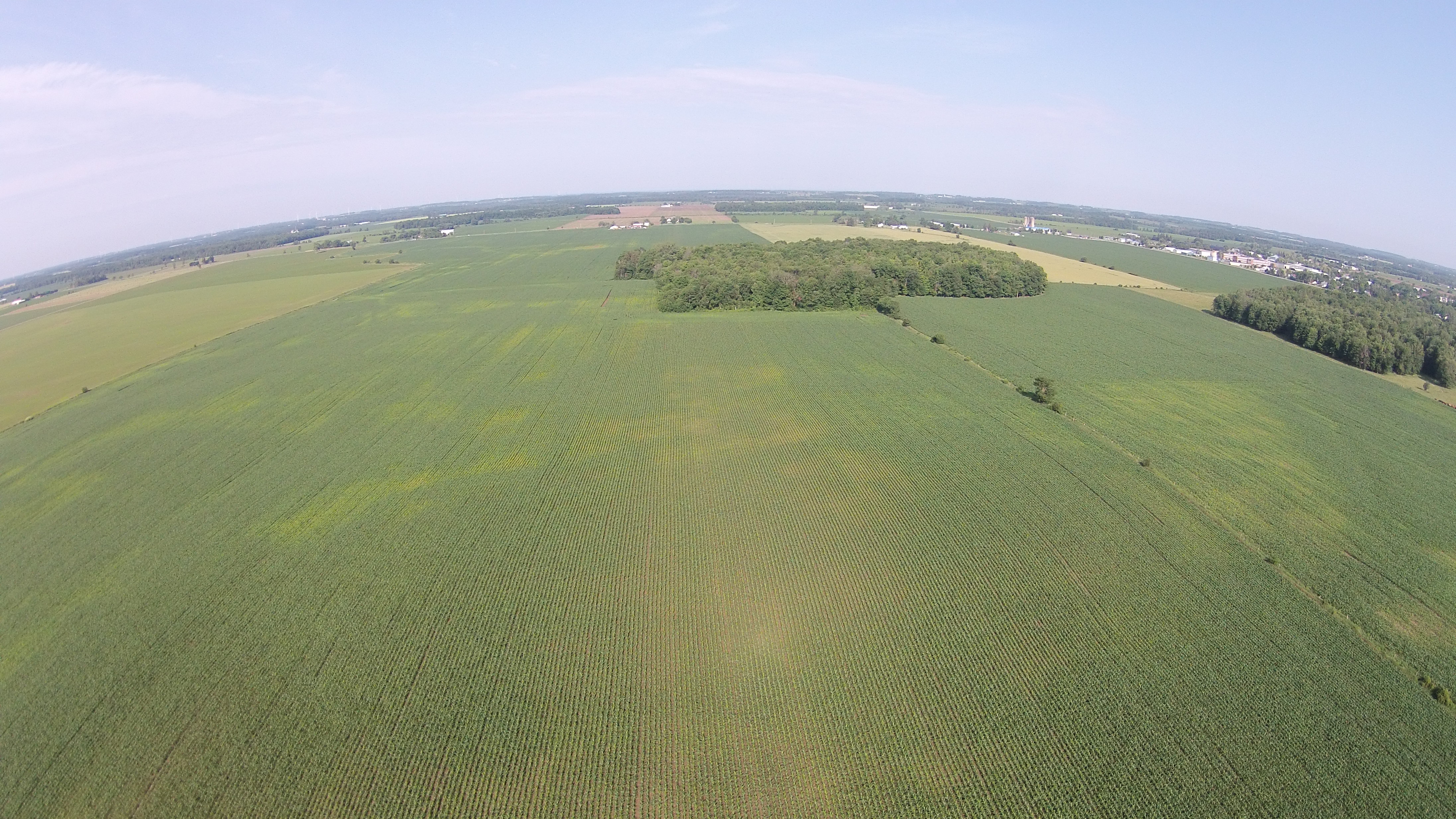 Crop Monitoring
This service basically include all the individual service that do apply for a cropping season into one package and let's us do the entire planning and monitoring. The following work steps are generally part of that service pack:
Meeting with the client to discuss general cropping intentions.
Set up a cropping plan that outlines all necessary work steps and inputs like seed, chemicals and fertilizer/ manure required and the necessary equipment needed, all inputs and work steps are shown with their individual costs.
GPS boundary mapping the field and recording the field entrance coordinates.
Several field scouts during the growing season with printed reports provided.
Do additional services as needed like Greenseeker N requirement measurement or Pre- sidedress- N sampling.
Do all available mapping of application, boundary and yield maps.
Meet with client in field during the cropping year.
Create a Cropping History Report at the end of the year showing the entire annual field history with its costs, yields and assumed net return based on crop sales price.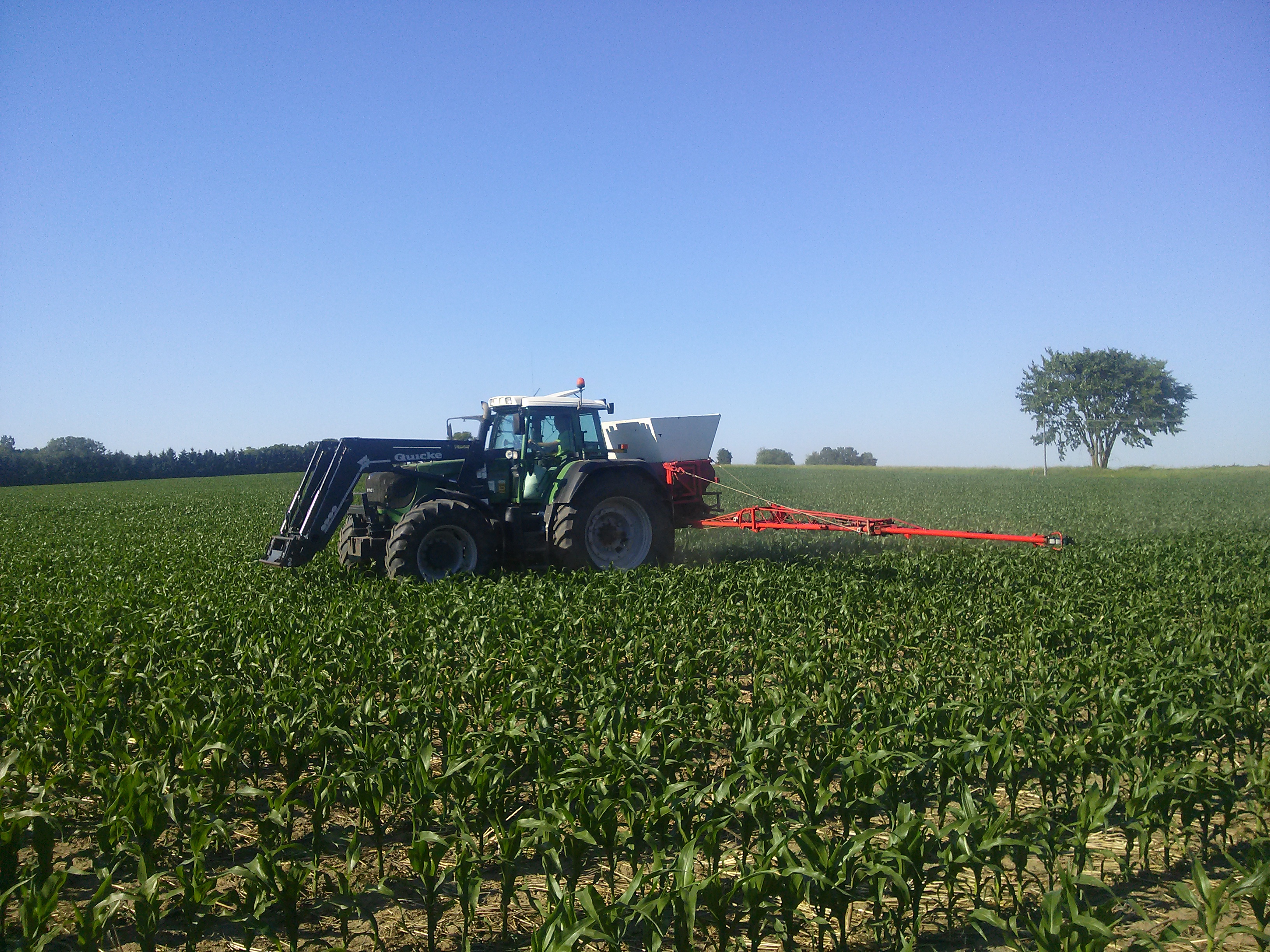 Contract Farming
This is the highest level of our crop managing services. We do the entire crop monitoring and the actual field work for you and get paid for our services based on the actual yield results. We are taking responsibility for our actions and are sharing the cropping risks with you. In detail we are doing and supplying the following work steps:
We do the entire Crop Monitoring as described above.
We do all necessary field work to establish, produce and harvest the crop.
We use newest technology including Precision Farming Technology.
We work with the client to meet his cropping intentions and needs.
You own your crop we get paid based on results and performance.
Our objective is to maximize your net returns and being in compliance with agronomic and environmental sound farming practice. We are sure one of our Crop Management Services meets your needs and will work for you.
---
Fertilizing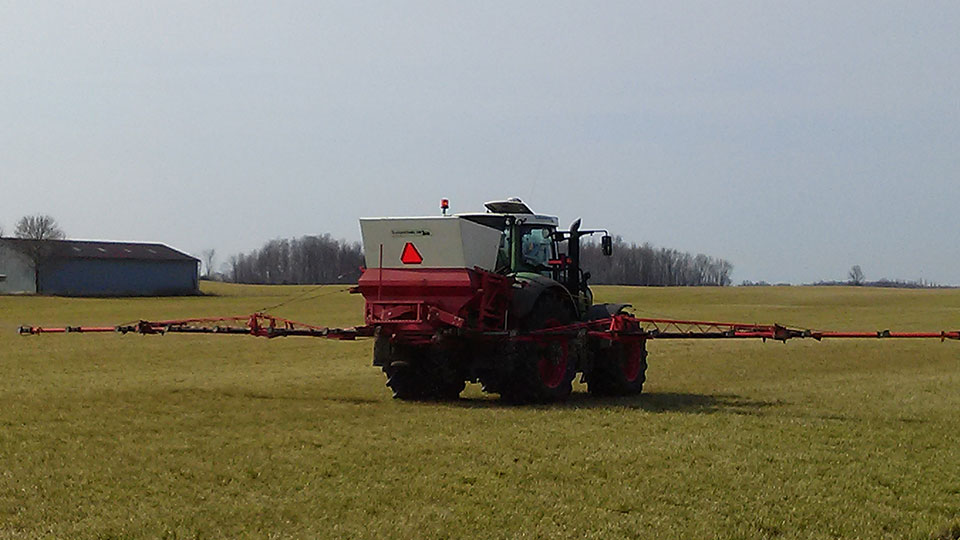 We are offering four different solutions for fertilizer application:
Broadcasting 28% UAN solution with the sprayer using streamer nozzles either preplant, preemerge, or in crop to corn, canola, grains, or other growing crops. In tall corn we are using boom draghoses to apply the fertilizer between the corn rows.
In crop foliar feeding nutrient solutions with the sprayer using different styles of flatfan nozzles.
Broadcasting all types of dry fertilizer with our air boom spreader either preplant, preemerge, or in crop using tramline systems.
Sidedressing urea to 3 to 12 leaf corn using an aircart with a 16-row 30" coulter tool is the most effecient way to feed the corn crop.
The applicators are equipped with auto rate control, autosteer, autoswath, and application mapping and we can supply the different fertilizer sources as well.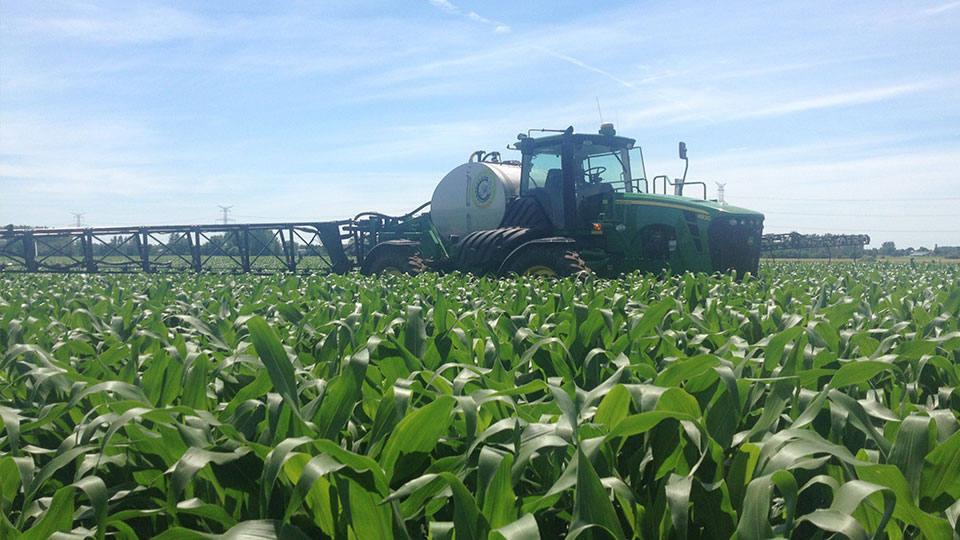 ---
Grain Hauling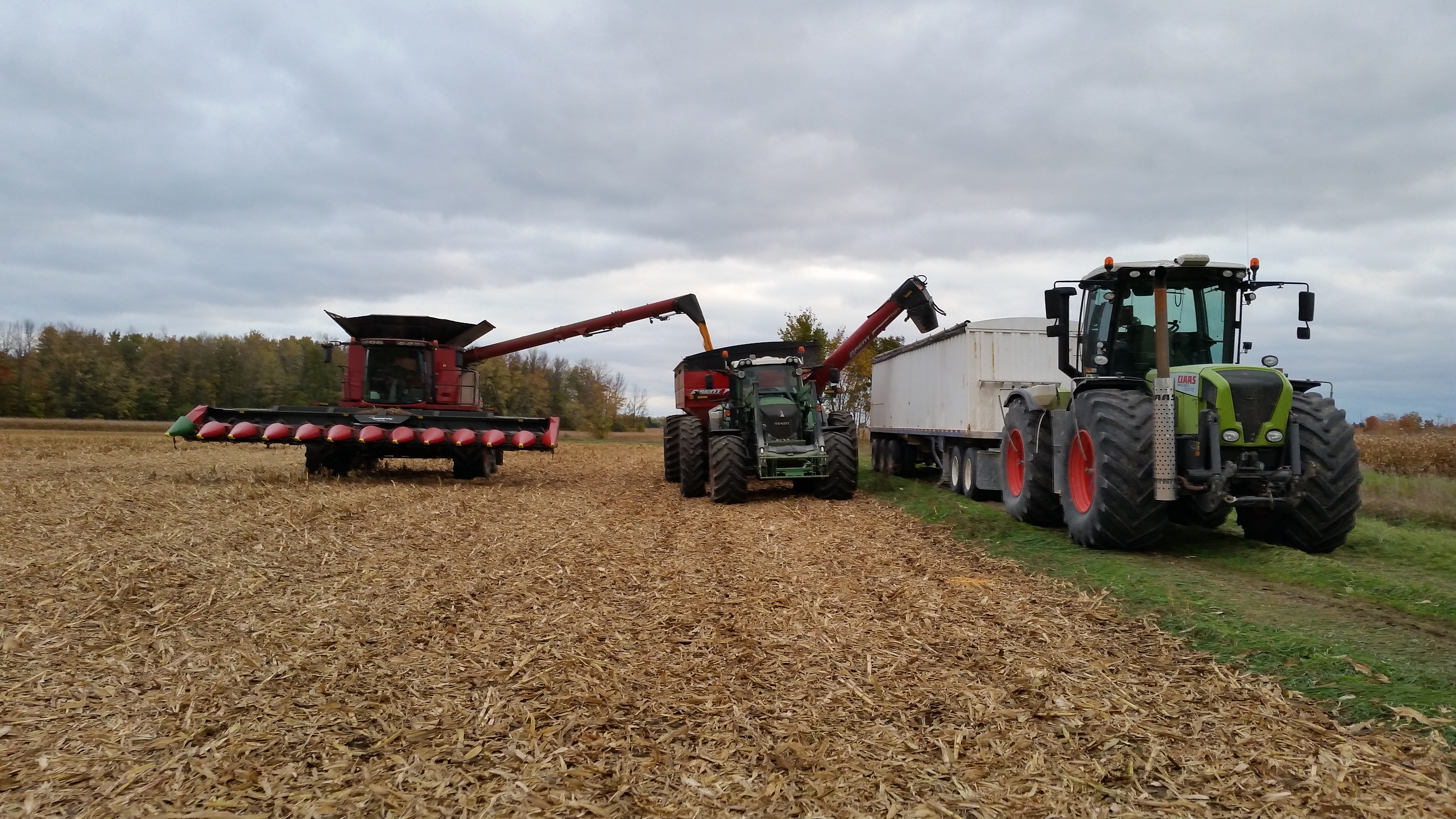 Hauling grain is served with farm-style hopper wagons, silage dumptrailers, and truck style trains or bottom unloading trailers on dolly axles which are all equipped with air brakes.
---
Pioneer Product Sales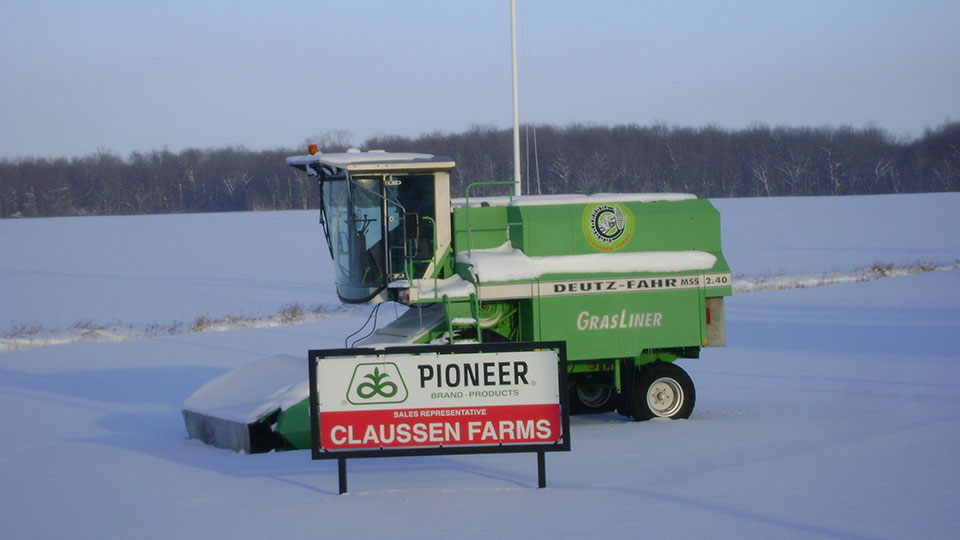 Claussen Farms Custom Farming has been a Pioneer sales agent since 2006. We are selling, supplying and servicing all Pioneer brand products such as seed and silage inoculants. Besides these cropping products, Pioneer is also offering a variety of added value special services such as FIT GPS yield mapping, silage surface infrared photography and crop related information during the growing season. There is also a program available for children aged 15 to 18 called Corn Share. It is a great program for kids who are interested in farming and who would like to see the cropping side of things.
Contact us for any questions or needs you have and we will try to serve you to our best ability with Pioneer brand products.
---
Planting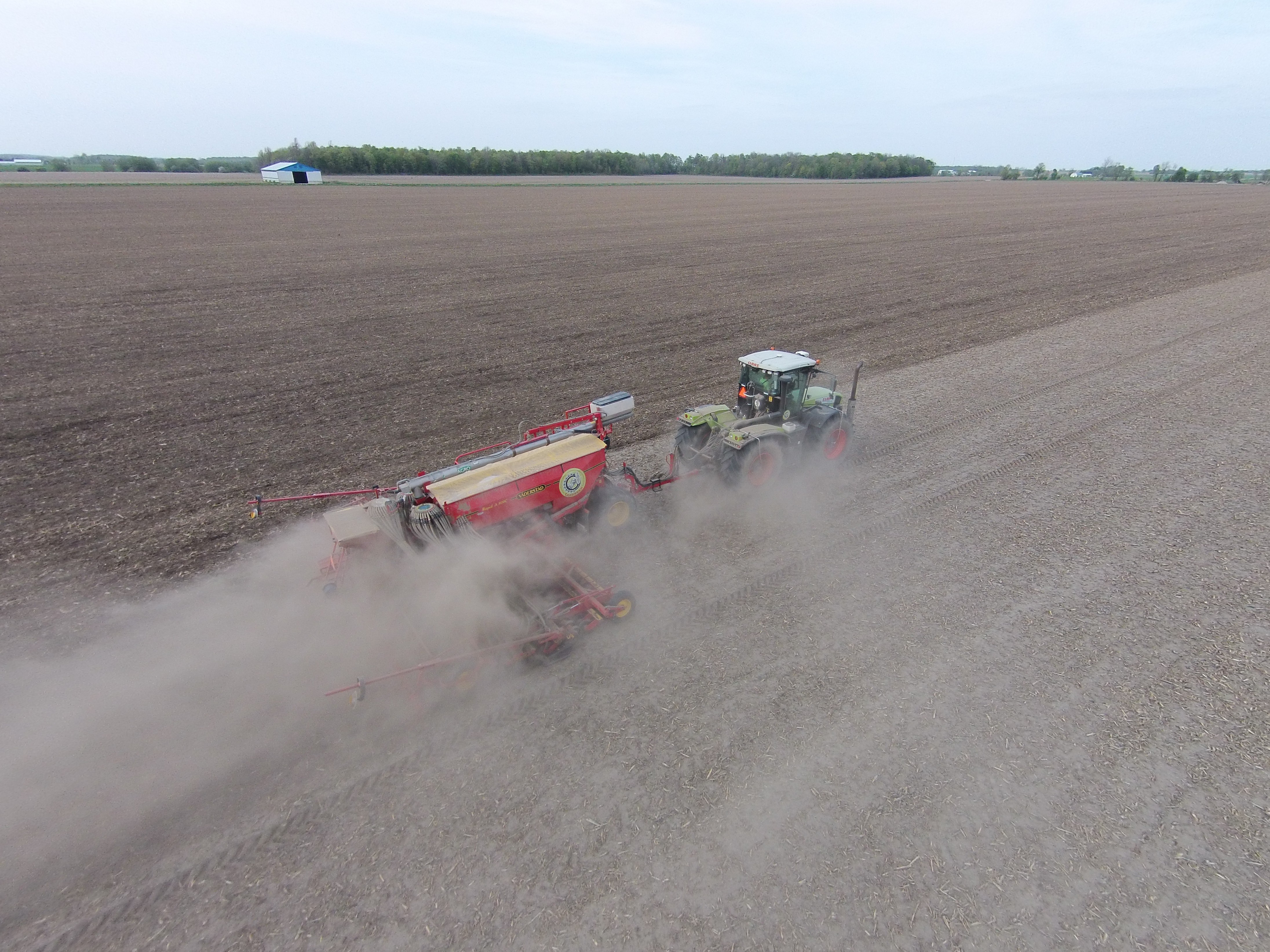 We are planting all crops and are using the following equipment:
Vaderstad Rapid RDA 800C drill
Amazone EDX-9000 planter
John Deere 1770NT planter
John Deere 1790 Planter
The Vaderstad Rapid RDA 800C can plant in notill, mintill or conventional conditions with doing disc tillage or without. The 3 independent product compartments allow placing 3 different seeds or fertilizer at the same time. When doing that, row spacings can be selected as 5", 10", 15", 20", or fine seeds can be broadcasted. Fertilizer can be placed between the seed rows on all spacing configurations. The planting options and configurations are almost limitless.
The Vaderstad drill performs best at speeds around 10 mph so that the 27 ft RDAC 800 is equal in capacity to a 40 ft airseeder.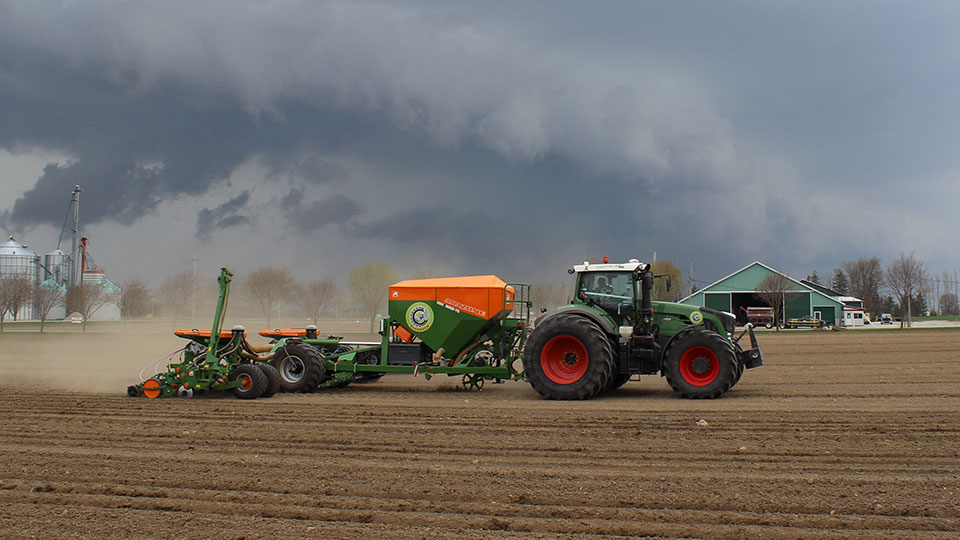 The Amazone EDX is a 12 row 30" corn planter with the capacity of a 16 or 18 row planter. This planter is run at speeds of 8.5 mph to 10 mph. It is a very compact unit with a dry fertilizer tank and two central seed tanks. The secret of this machine's precise seed placement lays in its unique row units with big gauge wheels and rubber block suspension on parallel arms. It is amazing to see the smooth bounce free run of the row units and precise seed placement that comes with it.
Big fill ports, central seed and fertilizer tanks, and the high speed road undercarriage on the Amazone EDX allow for less set up time and more field productivity.
The 16 row JD 1770NT planter runs with a FlexiCoil 2340 aircart for fertilizer delivery. It has a vacuum metering system and is running with a GreenStar variable rate system.
The JD 1790 planter can plant on 15 or 30" rows and uses a liquid fertilizer system with a Central Commodity Seed system.
A written planting report for each field is supplied.
Both John Deere planters are running with coulters or row cleaners and are using rubber or spading closing wheels, which allows us to plant in all crop and soil conditions
---
Spraying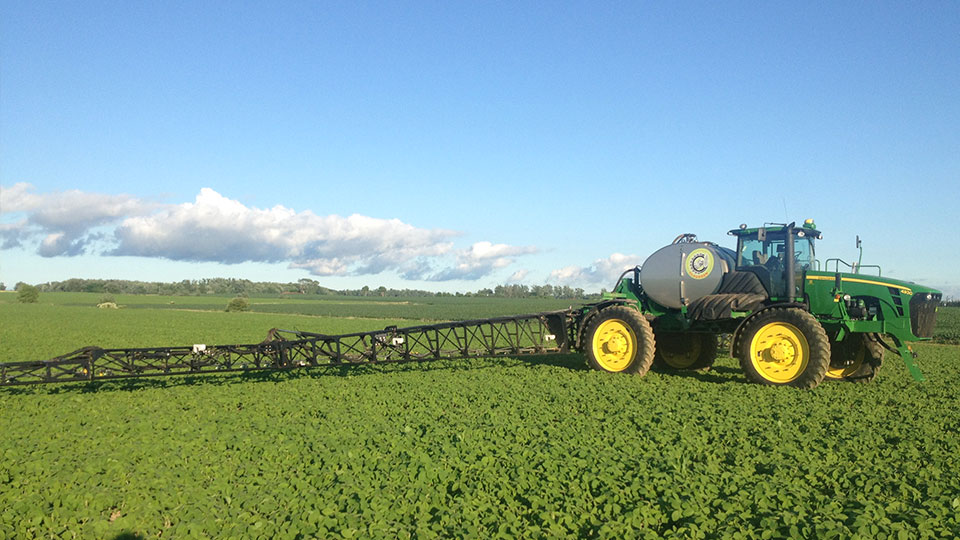 A John Deere 4930 self-propelled sprayer is being used for chemical application as well as for liquid fertilizer. The sprayer is transported on a truck based sprayer float that carries water and chemicals for an entire spraying day. A written spray report and "Applied As Maps" are supplied with all spray jobs.
The sprayer itself is equipped with:
Autosteer
Automatic boom height control
Automatic boom section on and off
120 ft boom and 1200 ga tank
9,5 ft boom clearance for spraying tasseled corn
Belly shield and protection for spraying tasseld corn
High volume plumbing for liquid fertilizer application
Drop hoses attached for spraying 28% in corn
Boom lift kit to 10ft height
GreenSeeker Crop Sensing System
GreenSeeker
The GreenSeeker crop sensing system is a variable rate application and crop vigor mapping system that offers a more efficient and precise way to manage crop inputs such as nitrogen. The system verifies in real-time the amount of nitrogen the soil has made available using complex agronomic calculations called NDVI. The GreenSeeker system then determines a fertilizer prescription for instant application so that you are applying the right amount of nutrients needed by the plant.
If the Greenseeker is not used for var. rate applications its sensors are still being used to measure the greenness via NIR and a vigor map is being created. This map is similar to the NIR images created by UAV's and are an excellent scouting tool for detecting any plant stress situations the human eye will not catch.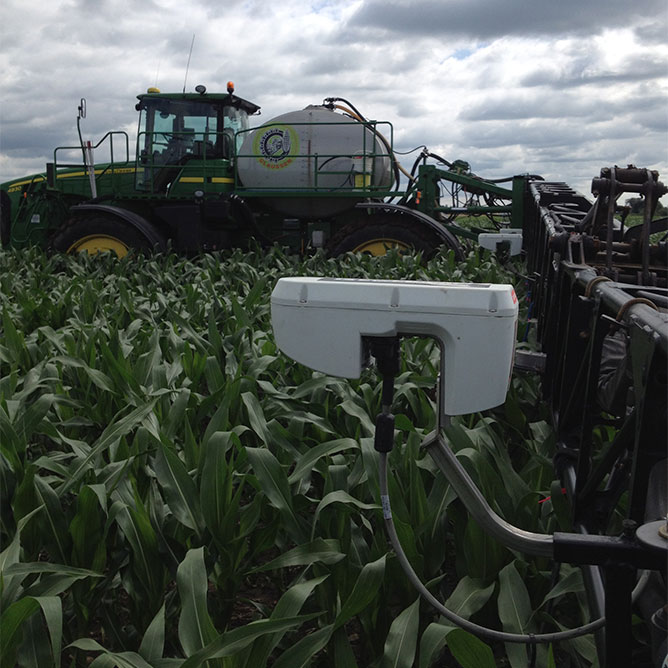 Benefits of using the GreenSeeker system:
Improves yields and can increase profits by more than $15 per acre
Addresses field variability
Current crop conditions are used to determine fertilizer rates
Application rates automatically adjust based on readings taken by the sensors as the sprayer travels through the field
Works in any weather condition—day or night
How GreenSeeker works:
The sensors emit a burst of red and infrared light that is taken up by the plants. The sensors are then measuring the amount of light that is reflected back – basically measuring how green the plant is. Based on this light reflected back, the GreekSeeker will then calculate and adjust the rate for the amount of nitrogen needed in order to get the most yield out of those plants.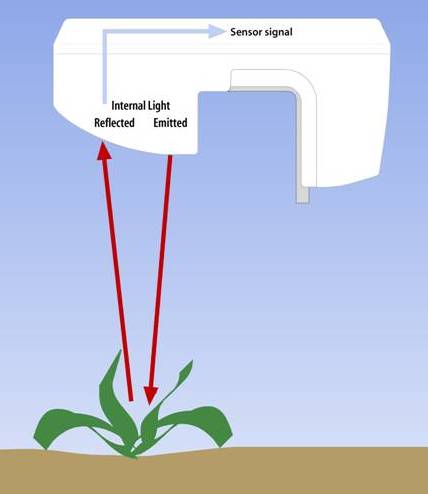 In order to know how much nitrogen is needed, an N-rich calibration needs to bedone. The sprayer will drive over this N rich area, gets a reading of the highest rate of nitrogen that should be applied and compares this to a low spot of nitrogen in the field. This will then give a min. and a max. for variable rate application.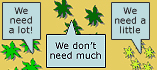 This changes conventional farm practices because we are no longer applying one solid rate of fertilizer across the entire farm. In the past, we have use PS N samples in corn to determinedhow much additional N is needed, GreenSeeker gives us a real-time reading of nitrogen available the day of application. Many things can change in a field between soil sampling and fertilizer application, ex: temperature and moisture, which can affect the amount of nitrogen available to plants. We are applying the right product, in the right place, at the right time.
The Greenseeker is currently adapted to read and apply N to corn, wheat and canola. Other crops are under investigation are following soon.
---
Tillage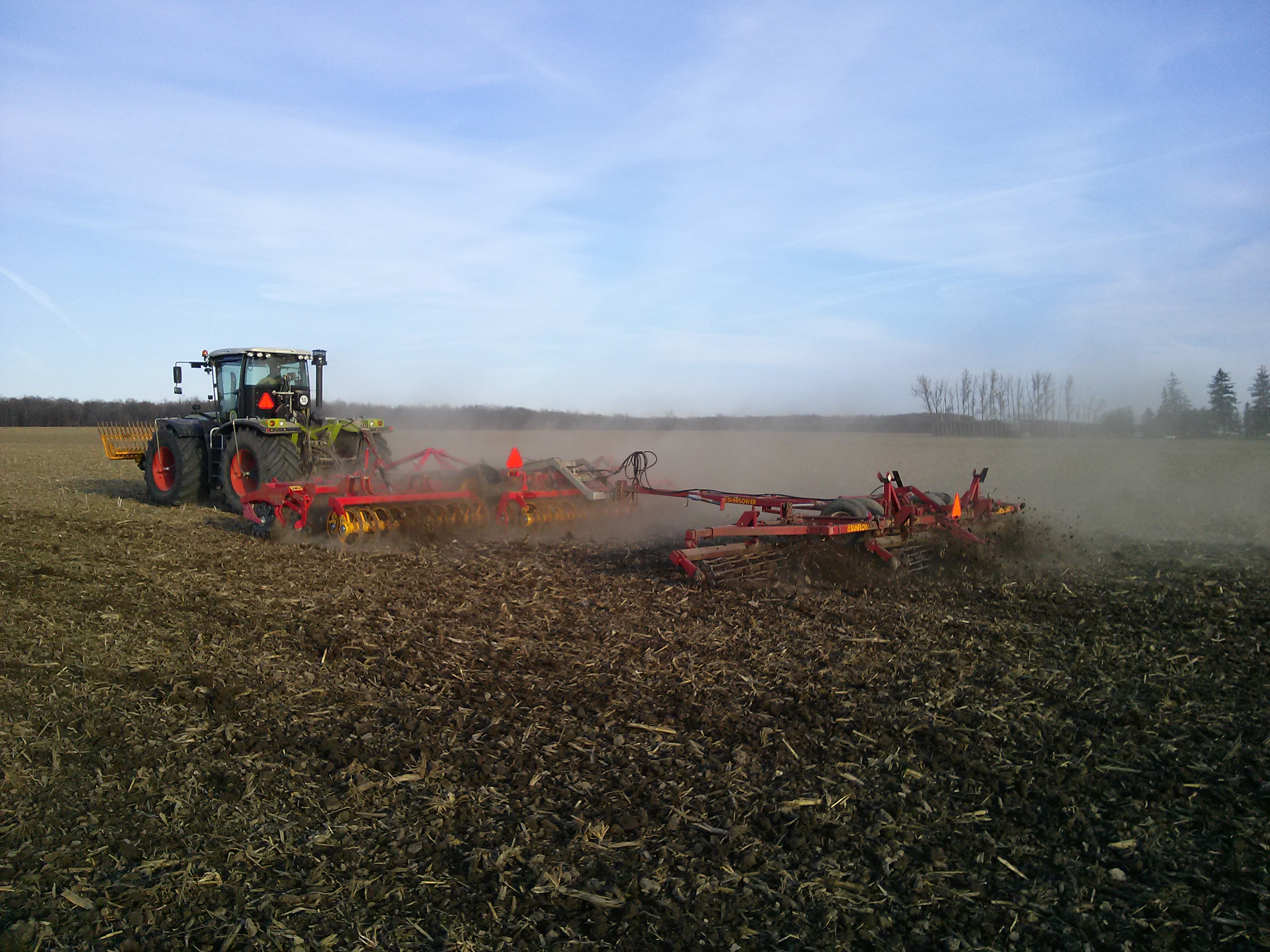 We are offering the full range of tillage options from notill to conventional and are using the following equipment and combinations:
Lemkin Diamant II 8 furrow rollover plow
Horsch Tiger MT 5 - Horsch Tiger and Rapid Drill
Vaderstadt Carrier high speed disc
38 ft Wilrich field cultivators with a roller or crumbler
Bigger stones can be picked while doing the tillage pass using a stonefork mounted on the tractor's loader.
---
Treeline Trimming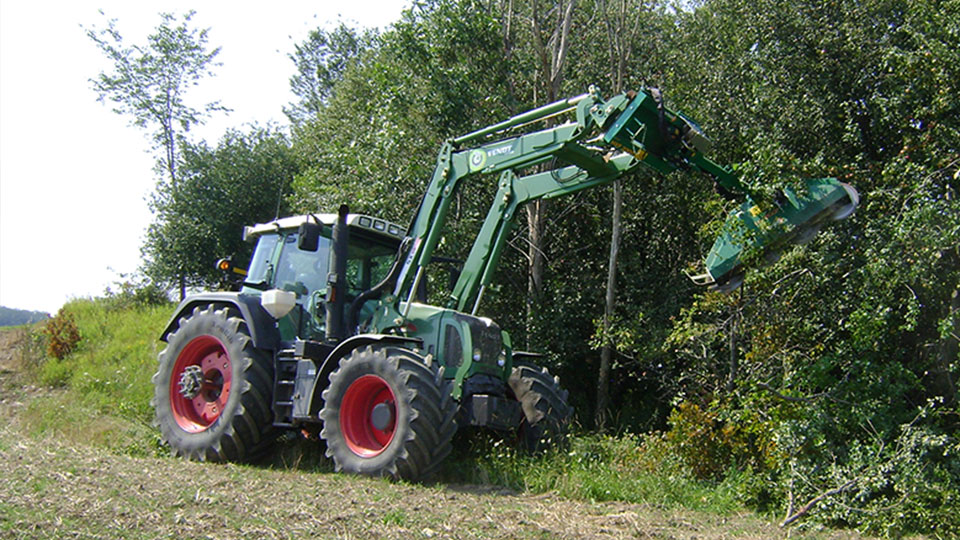 The quadsaw is a four-bladed saw, mounted on a frontend loader, which is used to cut trees and branches up to 6" in diameter. It is used to clean up tree lines and fences to clear field boundaries. A following loader tractor, wheel loader or tractor with a grapple is used to clean up the cut off branches. This will increase field size, reduce tree shadows and avoid equipment damage from overhanging limbs. This can not only be used in fields, but also along snowmobile trails and other such trails.