Road Services
FAE MTH 250 Soil Stabilizer – Stone Crusher – Asphalt Grinder
Just like our Wirtgen, this new road machine is PTO driven, mounted on a three point hitch, behind a 300+ HP tractor and has the same great mobility like the Wirtgen machine. The FAE has a max. working depth of 20 inches. It will be used for all the same applications the Wirtgen has been used for, like pulverizing asphalt on parking lots and roads and doing base stabilization with liquid products and lime or cement. The added advantage is that it can crush stones and bedrock.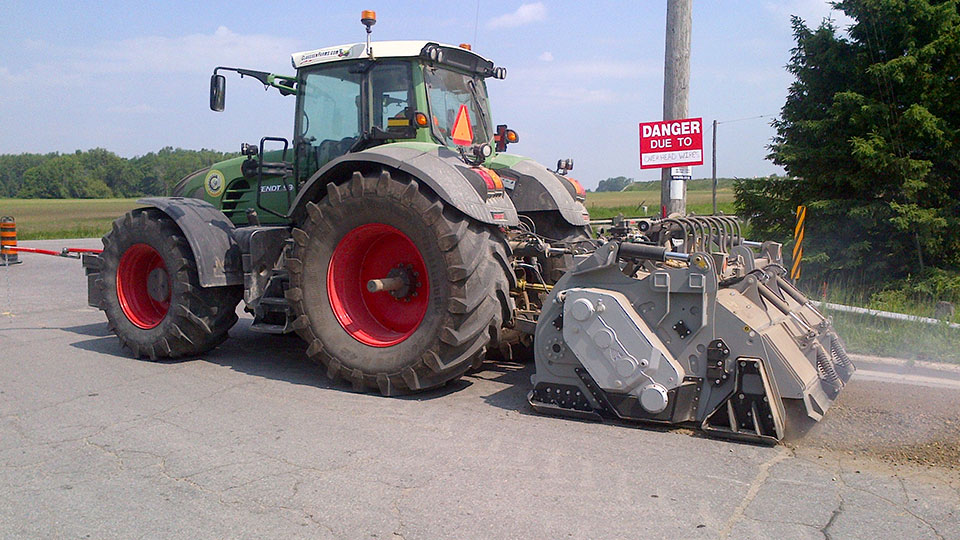 The rotor is adjusted through hydraulics and can be moved up or down. In this way the volume of the grinding/mixing chamber increases based on the working depth.
An Internal HARDOX® counter knife and the rear screen system guarantees ideal sizing of the final product. This allows us to adjust the material sizing independent of the forward speed, which will increase our capacity and will reduce the work time.
The onboard Water Spray System is controlled from the cab of the tractor and allows the injection of liquid binding agents and water into the mixing chamber to optimize the stabilization process. It also helps control the rotor temperature during asphalt grinding operations.